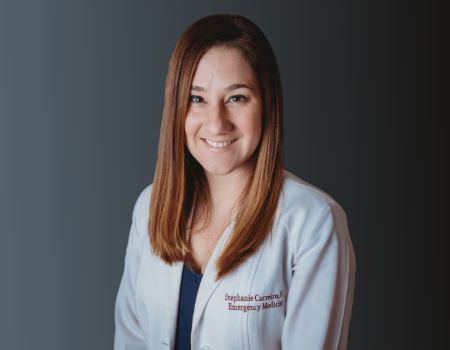 Director, ToxInnovation Lab
Stephanie Carreiro, MD, is an emergency medicine physician and medical toxicologist. Her current research interests include the utilization of of mobile biosensors and microRNA to evaluate drug toxicity, substance abuse, and addiction.
After completing her fellowship, she joined the Division as an Assistant Professor of Emergency Medicine. In her first year as a faculty member, she won the Teacher of the Year Award from the Emergency Medicine residents. Dr. Carreiro has a passion for novel translational research, which she first discovered during her own residency while evaluating novel antidotes for cardiotoxicity in animal models. Her work is supported by numerous federal, local, and industry grant mechanisms. As a KL2 scholar, she is currently pursuing a PhD in Biomedical Sciences at the University of Massachusetts through the MIllennium PhD Program.
Education
Fellowship in Medical Toxicology, University of Massachusetts (2015)
Residency in Emergency Medicine, Brown University (2013)
MD, New York Medical College (2009)
Awards & Honors
Fellow, American College of Medical Toxicology (2020)
Fellow, American College of Emergency Physicians (2018)
Teacher of the Year Award, Department of Emergency Medicine, University of Massachusetts Medical School (2017)
Early Career Achievement in Science and Health Award, Women's Faculty Committee, University of Massachusetts Medical School (2017)
Teacher of the Year Award, Department of Emergency Medicine, University of Massachusetts Medical School (2016)
Early Career Reviewer, Center for Scientific Review, National Institute of Health (2016)
Gregory Jay Annual Award for Resident Research, Brown University, (2013)
Marc Shapiro Medical Student Teaching Award, Brown University (2012)
Alpha Omega Alpha, New York Medical College (2009)
Gold Humanism Honor Society, New York Medical College (2009)