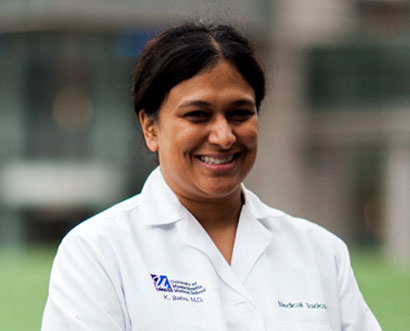 Division Chief/Fellowship Director
Kavita M. Babu, MD is the Chief of the Division of Medical Toxicology and a Professor of Emergency Medicine. Her research interests include educational and research strategies for opioid safety and overdose prevention, compassionate care for patients with addiction, and advanced surveillance of emerging drugs of abuse.
After completing her medical training, Dr. Babu served as Assistant Program Director of the Emergency Medicine Residency at UMass, worked in the community at University Community Hospital in Tampa, FL, and then served as a Medical Toxicologist at Rhode Island Hospital, where she started a toxicology conference series. In 2012, she returned to UMass as Fellowship Director in Medical Toxicology. To date, she has mentored four years of medical toxicology fellows who have become NIH funded clinician-scientists, leading medical toxicologists across the country, and astute clinicians.
In 2018, Dr. Babu was named the Chief Opioid Officer for UMass Memorial Health Care. In this role, she oversees efforts to decrease opioid-related morbidity and mortality in our patients.
Education
Fellowship in Medical Toxicology, University of Massachusetts (2006)
Residency in Emergency Medicine, Brown University (2004)
MD, Alpert Medical School at Brown University (2000)
Awards & Honors
UMass Humanism in Medicine Award (2015, 2016)
UMass Teacher of the Year (2006, 2014)
Arnold P. Gold Award for Humanism in Medicine from Brown University (2004)
Citation for Academic Excellence from Brown University (2000)